Kiplinger's Personal Finance
The magazine contains articles about investments, insurance, taxes, money management, planning for retirement, paying for education, health care and travel, home ownership, major purchases including cars and homes and other personal finance topics.




Inc.
Popular business magazine published monthly. The magazine featuring small business, business news, entrepreneur resources, and more. The magazine was founded in 1979 by Bernard Goldhirsh.




Fortune
American bi-weekly business magazine covering local and international business in news, financial news, technology, companies, global economics, finance, business research, financial trends, and more. The magazine was founded in 1930.




Economist
Premier News magazine emphasis on current affairs, politics, science & technology, economics, world business and more. The Economist calls itself a "newspaper". The Economist was founded in 1843.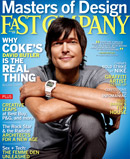 Fast Company
USA based business magazine contain articles about leadership, design, innovation, technology, digital media, social responsibility, change management, and more.




Forbes
Featuring information on business, economy, financial news, personal financial advice, entrepreneur, financial markets coverage, markets news, financial investments, business, financial & market analysis, and stock market analysis.




Entrepreneur
Monthly magazine for businesses owners published by Entrepreneur Media Inc. Entrepreneur magazine covering marketing, management, technology, money, the latest trends and strategies.




Harvard Business Review
Business management magazine for academics, executives, and management consultants. The magazine based in Boston, MA and published by Harvard Business School Publishing.



Bloomberg Businessweek
Leading business magazine published by Bloomberg L.P. in New York City. The magazine contains articles about national & international business news, small business management, small business financing, business loan, investing, personal finances, stock investing, stock markets, mutual funds, real estate investing, and retirement investing. The magazine was founded in 1929.




Consumer Reports
Monthly magazine published by Consumers Union of United States. Consumer Reports magazine does not accept advertising, accept free product samples. Subscription includes a year-end 360 page buying guide and April Auto Issue.




Selling Power
Magazine for sales management covering sales leadership, leadership skills, hiring, training, new sales tools, and more. The Selling Power magazine based in Fredericksburg, VA.



Black Enterprise
Leading business magazine primarily for African Americans entrepreneurs. The magazine was founded in 1970 and providing news and information to corporate executives, entrepreneurs, professionals, and decision makers.




Home Business Magazine (HBM)
Magazine for home-based entrepreneurs. The magazine featuring business start-up topics, social media, e-commerce, home office set-up and improvement, interviews with industry expert, success stories and more.




Money
Personal finance magazine published by Time Inc covering protecting finances, money management, saving, home improvement, planning for retirement, paying taxes, career, investment strategies, life insurance and more. The magazine was founded in 1972.




SmartMoney
The magazine published by Dow Jones & Company and based in New York City. Each issue includes articles about personal finance, CEO interviews, lifestyle, technology, investments, and smart spending tips.

Strategy+Business
Quarterly business magazine published by the global management consulting firm Booz & Company. The magazine featuring business book reviews, corporate finance, International business, global business policy, human resources management, and more.




Canadian Business
Leading business magazine published in Toronto, Canada. The magazine owned by Rogers Media, featuring financial news, personal finance advice, small business help, business tips, workplace issues, investors, and more.




THE WALL STREET JOURNAL
One of the most popular business journals.




Financial Times (FT)
International newspaper specialises in business and financial news. The Financial Times based in London, UK.



See also
Agriculture
,
Employment
, and
Architecture magazines