Cosmopolitan en Español
Leading Spanish-language magazine covering fashion, beauty, relationships, Latino culture, careers, health, self-improvement, celebrities, clothes, shoes, skin, hair, makeup, wellness, fitness, and more.




Vanidades
One of the most widely circulated women's magazines in Spanish language. The magazine published in many countries including Chile, Dominican Republic, United States, and Mexico. Featuring beauty, fashion, make-up, culture, arts, health, and more.




Latina Magazine
Spanish American women's magazine, published by Latina Media Ventures, LLC. The magazine contain articles about fashion, beauty, entertainment, latest news in Latin music, lifestyles, food, travel, Latin community, celebrity, nightlife, restaurant, Latin dishes, beaches, and more. Latina magazine founded in 1996.




Siempre Mujer
Hispanic women's magazine published by Meredith Corporation. Siempre Mujer is a publication for women of Hispanic living in the United States, including the Commonwealth of Puerto Rico. The magazine featuring all types of issues, women's health, family finances, cooking recipes, latest on fashion, relationships and self-improvement.




Poder Enterprise Magazine
Leading business publication for US Hispanic leaders and decision-makers. The magazine featuring critical analysis of business, economic social trends, politics, travel and art.

Alma Magazine
Spanish-language lifestyle magazine published for the Hispanic community. The magazine featuring America focus, money and education, business, travel, food, health, and more.



¡Hola!
Weekly Spanish-language magazine based in Spain, ¡Hola! also published in Argentina, Brazil, Canada, Greece, Russia, Peru, United Kingdom, and Mexico.




Hispanic Business Magazine
Covering U.S. Hispanic market, personal financial advice, entrepreneur, economic trends within the Americas, best business practices, small business management, career development opportunities, and more.




People en Español
Spanish-language edition of People magazine, published since 1996. People en Español magazine published by Time Inc. The magazine covering beauty, entertainment, music, film, fashion, stories, and more.



TVyNovelas Magazine
Hispanic magazine based in Mexico and published by Editorial Televisa. International editions of the magazine is also published in USA, Argentina, Chile, and Colombia. TVyNovelas magazine gives awards to the best telenovelas and TV shows of the year.




Urban Latino Magazine
Lifestyle and cultural publication for bicultural Latinos, and Urban Latino. The magazine published 8 times per year.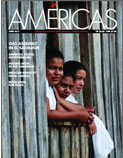 Americas - Spanish Edition
Educational and intellectual magazine also include in-depth articles about cultural topics related to the Americas (Central, North and Latin America)

Hispanic Network Magazine (HNM)
Hispanic Network Magazine contains articles about Latino lifestyle, business, education, and career.
Lista de revistas españolas, con varios temas como noticias de celebridades, bodas, moda, películas, programas de televisión, música, chismes, la comunidad latina, celebridades, la cultura pop, el análisis crítico de los negocios, las tendencias sociales económicas, política, viajes, arte, temas culturales relacionados con las Américas (Norte, Centro y América Latina)
Also see
Spanish newspapers
.